Research

Open Access

Open Peer Review
This article has Open Peer Review reports available.
A decline in inflammation is associated with less depressive symptoms after a dietary intervention in metabolic syndrome patients: a longitudinal study
Nutrition Journal
2014
13:36
Received: 2 March 2014
Accepted: 15 April 2014
Published: 24 April 2014
Abstract
Background
Metabolic syndrome (MetS) and depression have become two prevalent diseases worldwide, whose interaction needs further investigation. Dietary treatment for weight loss in patients with MetS may improve depressive manifestations, however, the precise interactive pathways remain uncertain. Therefore, the aim of this study was to examine the effects of a hypocaloric diet designed to reduce MetS features on self-perceived depression and the possible underlying factors.
Methods
Sixty subjects (Age: 50 ± 1 y; BMI: 36.1 ± 0.6 kg/m2) with MetS were selected from the RESMENA study (control and intervention) after they completed the 6-months hypocaloric treatment and rated for depressive symptoms using the Beck Depression Inventory (BDI). Anthropometric and biochemical measurements including leptin, C-reactive protein (CRP) and insulin levels were evaluated.
Results
Depressive symptoms decreased during the weight loss intervention, with no differences between both dietary groups (control group −4.2 ± 0.8 vs RESMENA group −3.2 ± 0.6, P = 0.490). The number of criteria of the MetS was higher among subjects with more somatic-related depressive symptoms at baseline (B = 1.032, P-trend = 0.017). After six months of dietary treatment, body weight decreased in all subjects (−8.7%; confidence interval (95% CI) = 7.0-9.7) and also self-perceived depression (−37.9%; 95% CI = 2.7-4.9), as well as circulating leptin (−20.1%; 95% CI = 1.8-6.8), CRP (−42.8%; 95% CI = 0.6-3.0) and insulin (−37.7%; 95% CI = 4.1-7.2) concentrations. The decrease in BDI was significantly associated with declines in body fat mass (B = 0.34, 95% CI = 0.11-0.56) and also with the decrease in leptin (B = 0.16, 95% CI = 0.04-0.28) and CRP (B = 0.24, 95% CI = 0.01-0.46) concentrations.
Conclusions
The decrease in depressive manifestations after a weight loss intervention was related with adiposity, CRP and leptin in subjects with MetS.
Keywords
Metabolic syndrome
Depression
Inflammation
Leptin
Hypocaloric diet
Adiposity
Background
The metabolic Syndrome (MetS) is defined as a cluster of major cardiovascular risk factors including central obesity, glucose intolerance, hypertension and serum lipid disorders, whose prevalence is rapidly increasing worldwide [1, 2]. Similarly, certain MetS features such as excessive adiposity, glucose intolerance and dyslipidemia, have been associated with depression [3], which is considered the fourth leading cause of disease burden in the world [4].
Because of the high prevalence and public health implications of both depression and MetS, the potential association between them has recently received much attention [5, 6]. However, the exact interactive pathways between these diseases still remain uncertain, although they seem to be bidirectional and predisposed by both biochemical and behavioral mediators [6]. Depression involves dysregulation of the adrenocortical and autonomic nervous systems, which could increase MetS risk by favoring abdominal fat accumulation and insulin resistance [6]. Furthermore, subjects with MetS present increased levels of inflammatory cytokines and leptin resistance. Thus, C-reactive protein (CRP), a serum marker of systemic inflammation, has been a frequently investigated inflammatory marker in subjects with MetS [7]. Also, chronic inflammation could be involved in mood disorders, as a positive relationship between depression and CRP has been reported [8]. Regarding the association between depression and leptin, an adipokine mainly secreted by adipocytes with a key role in energy regulation, it seems that resistance to this hormone may contribute to higher depression rates in obese subjects [9].
Various strategies have been proposed to counteract MetS manifestations, including lifestyle (diet and exercise) modification and drug therapy based on antihypertensives, insulin sensitizers or therapies for dyslipidemia [10]. One of the most prescribed lifestyle changes is dietary treatment for weight loss, where the Mediterranean diet has been proven to be a useful tool to improve both MetS and depression symptoms [11, 12]. Also, the psychological effects of weight loss approaches have been a matter of controversy, mainly regarding how changes in body weight correlate with depressive symptoms [13].
This research is based on a subsample of the RESMENA-S study [14–17], a randomized, controlled intervention study that aims to reduce MetS features using a hypocaloric diet during six months. In this article, we hypothesized that a hypocaloric treatment designed to reduce MetS features produces a positive effect on depressive symptoms, and we sought to explore the possible underlying mechanisms and interactions of this effect.
Results
The main dietary characteristics of the two prescribed diets were compared showing that, as expected, the RESMENA group consumed more protein than the Control group during the dietary treatment. Moreover, the RESMENA group showed a greater decrease in lipid intake, but lower intake of ω3 PUFA (Table
1
). After six months of dietary treatment, subjects' anthropometric and biochemical variables improved significantly, observing a mean weight loss of 8.4 ± 1.2 kg (
P <
 0.001). However, there were no differences (
P
 ≥ 0.10) between both dietary intervention groups in neither anthropometric nor biochemical variables, as well as activity level of the volunteers. Also, both Control and RESMENA diets proved to be equally effective on improving the BDI score (Table
2
). Therefore, as no significant differences between dietary groups were found in any of the variables analyzed in this study, henceforth the two groups were merged and analyzed together as a unique experimental group.
Table 1
Comparison of the two dietary treatments, control diet and RESMENA diet
Control group (n = 32)

RESMENA group (n = 28)

Pvalue

Dietary intake

Baseline

6 months

Baseline

6 months

Total energy intake, Kcal/d

2108 ± 69

1535 ± 54*

2279 ± 99

1573 ± 72*

0.105

Proteins, g/d

95.9 ± 3.5

66.9 ± 3.4*

95.6 ± 3.4

79.3 ± 3.4*

0.012

Carbohydrates, g /d

187.3 ± 9.8

142.6 ± 8.1*

196.4 ± 11.5

138.9 ± 6.2*

0.579

Lipids, g/d

94.7 ± 4.3

69.1 ± 2.9*

108.7 ± 5.9

67.0 ± 3.8*

0.026

Fiber, g/d

21.4 ± 1.8

17.8 ± 1.7

22.6 ± 1.1

19.4 ± 1.2

0.748

Glycemic load

106.6 ± 8.6

72.8 ± 5.8*

112.1 ± 7.4

69.7 ± 5.1*

0.491

ω3 PUFAs , g/d

0.28 ± 0.01

0.28 ± 0.02

0.35 ± 0.16

0.08 ± 0.02*

0.002

Meal frequency, meals/d

4.6 ± 0.1

4.5 ± 0.1

5.5 ± 0.2

5.9 ± 0.2

0.100
Table 2
Anthropometric and biochemical variables in adults with MetS
Pvalue

Variables

Baseline

2 months

6 months

Time

Diet

TimexDiet

 Weight, kg

102.8 ± 2.2a

95.4 ± 2.1b

94.4 ± 2.2b

< 0.001

0.834

0.666

 BMI, kg/m 2

36.1 ± 0.6a

33.5 ± 0.5b

33.2 ± 0.6b

< 0.001

0.997

0.474

 WC, cm

114.2 ± 1.6a

106.8 ± 1.5b

105.7 ± 1.6b

< 0.001

0.999

0.102

DXA measurements

 Fat mass, kg

42.9 ± 1.2a

37.5 ± 1.2b

36.3 ± 1.2c

< 0.0011

0.469

0.432

 Muscle mass, kg

56.6 ± 1.5a

54.5 ± 1.4b

54.8 ± 1.5b

< 0.001

0.694

0.239

Biochemical variables

 Cholesterol, mg/dL

219 ± 5a

197 ± 5b

219 ± 5a

< 0.001

0.568

0.751

 Glucose, mg/dL

128 ± 5a

111 ± 3b

116 ± 4b

0.0011

0.786

0.377

 TG, mg/dL

195 ± 13a

146 ± 10b

154 ± 12b

< 0.0011

0.730

0.955

 FFA, mmol/L

0.56 ± 0.21a

0.52 ± 0.24a,b

0.47 ± 0.20b

0.016

0.122

0.461

 CRP, mg/L

4.3 ± 0.7 a

3.1 ± 0.4a,b

2.5 ± 0.4b

0.0051

0.597

0.183

 HOMA index, mM/L

4.9 ± 0.4a

2.8 ± 0.3b

3.0 ± 0.4b

< 0.001

0.956

0.288

 Leptin, ng/mL

21.5 ± 2.1a

14.5 ± 1.5c

17.2 ± 1.9b

< 0.001

0.816

0.837

 Insulin, μU/mL

15.4 ± 1.1a

9.7 ± 0.9b

9.6 ± 1.0b

< 0.0011

0.964

0.634

BDI questionnaire

7.6 ± 0.8a

4.4 ± 0.6b

3.8 ± 0.7c

< 0.001

0.777

0.798

Activity level2

1.6 ± 0.1

1.6 ± 0.1

1.6 ± 0.1

0.154

0.697

0.184
The comparative analysis between completers (n = 62) and dropouts (n = 25) concerning BDI score available at baseline, showed no significant differences (P = 0.255). Nonetheless, completers evidenced a lower mean value of BDI score at baseline (7.6 ± 0.7) in relation to those who did not finish the dietary treatment (9.3 ± 1.0).
The total number of subjects presenting a BDI score ≥10 units at baseline was 25% (9 M/6 F). After two months of weight loss treatment, this number decreased to 8.3% of the volunteers (3 M/2 F). At the end of the study (6 months later), only 6.6% of the subjects reported a BDI score ≥ 10 (2 M/2 F).
A test of linear trend revealed that the higher the number of components of MetS according to IDF criteria (3, 4 or 5 components), the higher somatic BDI score at baseline. Interestingly, this association was not observed in the cognitive questions of the questionnaire (Figure
2
).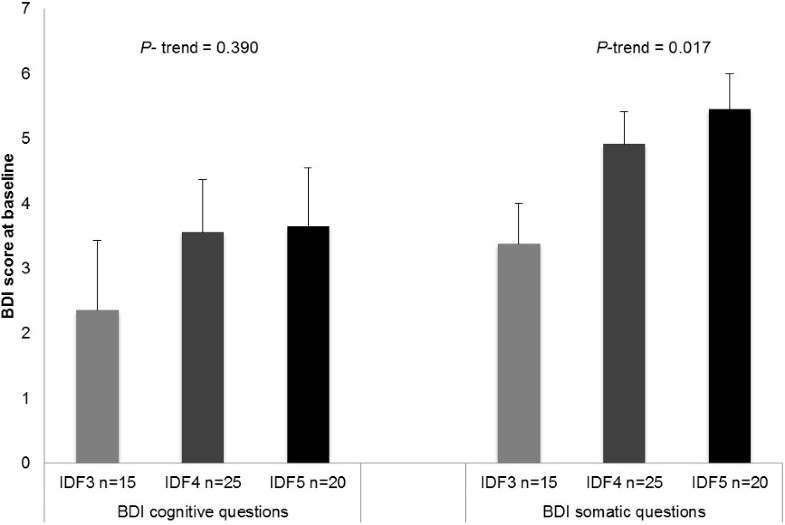 In turn, losing more weight led to greater reductions (
P
 < 0.013) in depressive symptoms (more weight loss ΔBDI = −5.2 ± 0.9; vs less weight loss ΔBDI = −2.5 ± 0.6). As expected, when we compared all the somatic-related questions separately between both groups (more weight loss vs less weight loss), significant differences were observed in the weight loss question, but also in the fatigability and loss of libido questions. Subjects reported losing more weight at 6 months than at baseline in the BDI questionnaire, hence the score of this question was higher at the end of the study. However, subjects who lost more weight did not show a greater reduction in the cognitive-related questions compared to individuals with lower body weight change (Figure
3
).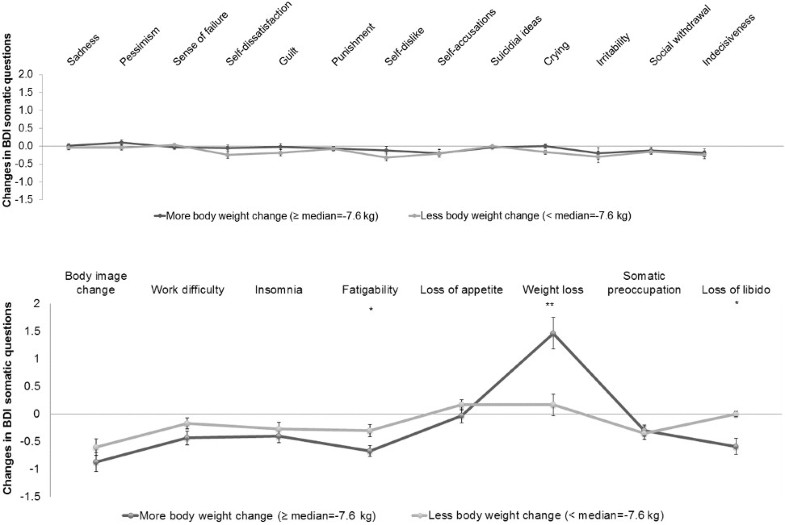 Additionally, a positive association between changes in depressive symptoms and changes in kg of total fat mass was observed (Figure
4
). We also found an association between changes in BDI score during the intervention period and changes in CRP, leptin and insulin levels. Further adjustment for body fat change eliminated the relation between depressive symptoms and insulin levels, however, the association of BDI with CRP and leptin remained statistically significant (Table
3
).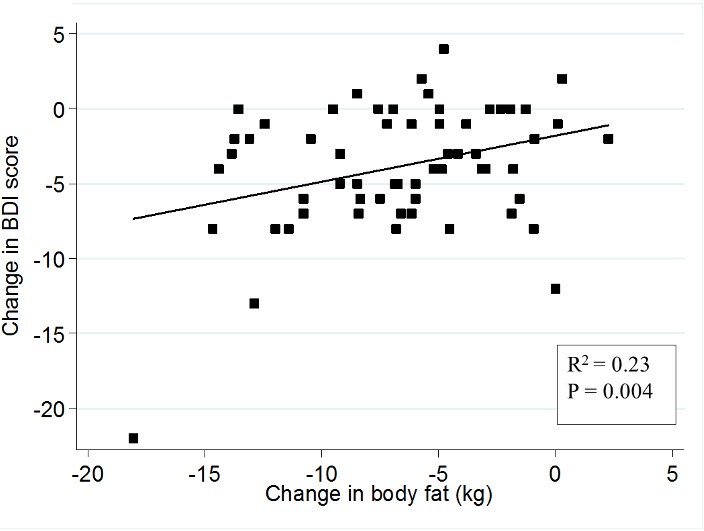 Table 3
Association between changes in BDI score and changes in CRP, leptin and insulin
Change in BDI score

Changes in:

B

95% CI

p

CRP mg/L

 Unadjusted model

0.25

0.01 to 0.49

0.043

 Model 1

0.27

0.03 to 0.51

0.029

 Model 2

0.26

0.01 to 0.50

0.044

 Model 3

0.28

0.06 to 0.51

0.015

Leptin ng/mL

 Unadjusted model

0.18

0.07 to 0.29

0.002

 Model 1

0.21

0.10 to 0.32

0.001

 Model 2

0.22

0.08 to 0.36

0.012

 Model 3

0.17

0.04 to 0.30

0.013

Insulin μU/mL

 Unadjusted model

0.21

0.02 to 0.40

0.026

 Model 1

0.25

0.07 to 0.42

0.006

 Model 2

0.33

0.15 to 0.52

0.001

 Model 3

0.18

−0.01 to 0.36

0.059
Discussion
The present study reports an association of the reduction in depressive manifestations with the decrease in CRP and leptin after a dietary treatment for weight loss in subjects with MetS. Moreover, the reduction in fat mass was also involved in the decrease of depressive symptoms, but it was not implicated in the association of this variable with CRP and leptin. Previous investigations have reported a decrease in depressive manifestations after a weight loss treatment [13, 28], however, this study specifically demonstrates a relationship of the decrease in CRP and leptin with the reduction in self-perceived depression in subjects suffering MetS.
The domains of self-perceived depression were divided in cognitive and somatic questions in order to better interpret the primary cause of patient depression [29]. At baseline, there was a ranked relationship between increasing number of MetS components and a higher rate of somatic questions but not of cognitive components. These findings were similar to those observed in a previous study also based on self-reported BDI questionnaire [30].
Question number 19 of the BDI test, related to weight loss, was apparently distorting the total BDI score. This observation was confirmed because the weight loss was associated with the decrease in body weight at the end of the dietary treatment, showing that those subjects who lost most weight, had a higher score on the weight loss question of the test. Therefore, the weight loss question was removed from the total BDI score in some analyses. Moreover, the improvement in the fatigability and loss of libido questions (somatic-related questions) might be considered as benefits of the weight loss.
Noteworthy, a positive association between decreases in CRP values and reductions in depressive symptoms was observed as has been reported in previous studies [8]. Inflammation seems to be, in part, responsible for the link between depressive symptoms and MetS. However, the precise nature of this relationship is not clear [8]. Theoretically, the association of leptin with depression may be related both to its metabolic properties and neurobiological activities [9]. Leptin affects cognition and mood in the hippocampus, the cortex and other brain areas associated with cognition [9, 31]. Obesity is related to higher levels of circulating leptin reflecting, in part, an increased formation of adipocytes, and causing leptin resistance in some obese subjects. A positive association between the decline in BDI score and the drop in leptin values was found, in line with results from previous studies [9, 32]. Furthermore, in an unadjusted model, a positive association was noted between insulin and depressive symptoms, being this link well-established [33, 34]. However, this association was no longer statistically significant when change in body fat was introduced in the model.
A previous weight loss intervention study showed that depression scores at baseline predicted adherence to a dietary treatment [28]. In accordance with this outcome, a higher BDI score in drop-outs at baseline was observed, although this value did not reach statistical significance. A positive association between lower BDI score and decreases in body weight was found, which is in agreement with previous studies [13]. In addition, there is some evidence suggesting that adiposity is directly related with depression [3]. In this study, the higher decrease in depressive symptoms was noticeable in those participants with a greater decline in total fat mass. Since adipose tissue is known to secrete inflammatory cytokines and leptin [35], it might be hypothesized that the decrease in body fat mass may have contributed to reduce CRP and leptin and subsequently decrease depressive symptoms.
Furthermore, the Mediterranean diet has been associated with reduced prevalence and incidence of MetS and depressive symptoms [11, 12]. A healthy dietary pattern has been associated with better mood [36] and diets rich in ω3 PUFA may decrease serum cytokine production and depressive signs [37]. Also, an inverse association between both vitamin D and vitamin C levels with depressive symptoms has been observed [38, 39]. In this context, we have previously shown that folate intake during this dietary intervention was well correlated with the decrease in depressive symptoms [17].
Because both MetS and depressive manifestations seem to share several common mechanisms, it has been suggested that the dietary recommendations for MetS might be helpful for depression treatment [5]. The present study strengthens this hypothesis, as the dietary treatment for MetS manifestations also reduced depressive symptoms. Moreover, several unhealthy lifestyle habits have been related with depressive symptoms, such as fast food consumption, high fat intake or low physical activity [5, 40]. In this study, physical activity was not directly associated with depressive symptoms, being in agreement with previous investigations [41].
The control diet based on the AHA guidelines is a well-design strategy for weight loss [20], what may explain that no differences between dietary groups were observed in the variables analyzed in this study. As both dietary groups proved to be effective in reducing depressive symptoms and no differences between them were found, both groups were merged and analyzed together as a unique experimental group. A longitudinal observational analysis comparing the BDI scores before and after intervention was conducted, serving the volunteers as their own control. The clear differences between the beginning and the end of the study lend support to the soundness of the analysis. One of the strengths of within-subjects (paired) analyses is the reduction in error variance associated with individual differences, which increases statistical power. Moreover, in order to control the possible confounding role of the intervention group, this variable was included in the multiple-adjusted models investigating the association of anthropometric and biochemical variables with depressive manifestations in the complete sample [17].
The study has some limitations. Firstly, depressive symptoms were evaluated using a self-report questionnaire, the Beck Depression Inventory, which is not designed as a diagnostic tool but as a screening method [24]. However, this test was chosen as it is widely recognized, it has been shown to be valid for clinical assessment [25] and it has previously been used to record depressive symptoms in weight loss studies [13, 28]. Secondly, this study only aimed to evaluate the association between the variables included and it cannot be determined any conclusions on causality between changes in body weight, fat mass, leptin and CRP and changes in depressive symptoms. In addition, the prevalence of depressive symptoms in our sample was low, which can be explained with the fact that subjects presenting psychiatric disorders at enrollment were not allowed to participate in the study. Also, the number of participants in this study is not very high, but it may be proposed that type-II errors were overcome since important statistical differences were found.
Conclusions
In conclusion, this study shows an association of the reduction in depressive manifestations with CRP and leptin in subjects with MetS after following a weight loss treatment. Interestingly, the decrease in fat mass was also related with the reduction of depressive symptoms. More studies are needed to explore the mechanisms underlying the MetS-depression relationship, which may be decisive for the prevention and treatment of both conditions.
Declarations
Acknowledgements
We wish to thank the volunteers of this study and Blanca E. Martínez de Morentín, Salomé Pérez, as well as Verónica Ciaurriz for excellent technical assistance in the University of Navarra. We would like to thank Dr Paul W. Miller from the Institute of Modern Languages of the University of Navarra for careful reading the manuscript.
Authors' Affiliations
(1)
Department of Nutrition, Food Science and Physiology, University of Navarra, Pamplona, Spain
(2)
Faculty of Health Science, Universidad Autonoma de Chile, Santiago, Chile
(3)
Biodonostia Health Research Institute, San Sebastian, Spain
(4)
Physiopathology of Obesity and Nutrition, Carlos III Health Research Institute, CIBERobn, Madrid, Spain
(5)
Department of Psychiatry and Medical Psychology, University Clinic of Navarra, Pamplona, Spain
(6)
Department of Preventive Medicine and Public Health, University of Navarra, Pamplona, Spain
Copyright
© Perez-Cornago et al.; licensee BioMed Central Ltd. 2014
This article is published under license to BioMed Central Ltd. This is an Open Access article distributed under the terms of the Creative Commons Attribution License (http://creativecommons.org/licenses/by/4.0), which permits unrestricted use, distribution, and reproduction in any medium, provided the original work is properly credited. The Creative Commons Public Domain Dedication waiver (http://creativecommons.org/publicdomain/zero/1.0/) applies to the data made available in this article, unless otherwise stated.