Review
Open Access
Open Peer Review
This article has Open Peer Review reports available.
Homocysteine and reactive oxygen species in metabolic syndrome, type 2 diabetes mellitus, and atheroscleropathy: The pleiotropic effects of folate supplementation
Received: 05 February 2004
Accepted: 10 May 2004
Published: 10 May 2004
Abstract
Homocysteine has emerged as a novel independent marker of risk for the development of cardiovascular disease over the past three decades. Additionally, there is a graded mortality risk associated with an elevated fasting plasma total homocysteine (tHcy). Metabolic syndrome (MS) and type 2 diabetes mellitus (T2DM) are now considered to be a strong coronary heart disease (CHD) risk enhancer and a CHD risk equivalent respectively. Hyperhomocysteinemia (HHcy) in patients with MS and T2DM would be expected to share a similar prevalence to the general population of five to seven percent and of even greater importance is: Declining glomerular filtration and overt diabetic nephropathy is a major determinant of tHcy elevation in MS and T2DM.
There are multiple metabolic toxicities resulting in an excess of reactive oxygen species associated with MS, T2DM, and the accelerated atherosclerosis (atheroscleropathy). HHcy is associated with an increased risk of cardiovascular disease, and its individual role and how it interacts with the other multiple toxicities are presented.
The water-soluble B vitamins (especially folate and cobalamin-vitamin B12) have been shown to lower HHcy. The absence of the cystathionine beta synthase enzyme in human vascular cells contributes to the importance of a dual role of folic acid in lowering tHcy through remethylation, as well as, its action of being an electron and hydrogen donor to the essential cofactor tetrahydrobiopterin. This folate shuttle facilitates the important recoupling of the uncoupled endothelial nitric oxide synthase enzyme reaction and may restore the synthesis of the omnipotent endothelial nitric oxide to the vasculature.
Keywords
AtherosclerosisBH4eNOSeNOFolate ShuttleFolic acidNitric OxideNitric Oxide SynthaseOxidative stress
Introduction and background
Since its discovery in 1932 by the 1955 Nobel Prize recipient Vincent DuVigneaud [1] and its association with premature arteriosclerotic (fibrotic) vascular disease described by Kilmer McCully in 1969 [2], Hcy has emerged as a novel marker of risk for cardiovascular disease.
In the past decade Hcy has become widely accepted as a novel risk marker associated with atherosclerotic cardiovascular disease (CVD) in the coronary, cerebral, and peripheral vascular beds. Additionally, it has been determined that hyperhomocysteinemia (HHcy) is an independent and a graded risk factor for the development of CVD [3–13]. The current role of Hcy as a causative factor still remains controversial and needs to be more fully elucidated.
The important role of oxidative – redox stress and HHcy is biologically plausible because Hcy promotes oxidant injury to vascular cells (particularly the endothelium and the eNOS enzyme reaction) through the auto-oxidation of Hcy, formation of Hcy mixed disulfides, interaction of Hcy thiolactones, and protein homocysteinylation [14–16].
Oxidation of two Hcy molecules yields the oxidized disulfide (homocystine), two protons (H+), and two electrons (e-), while promoting the formation of reactive oxygen species (ROS).
Also, formation of mixed disulfides contributes to the additional formation of ROS
Hcy-SH + R-SH ---- O 2 -------→ Hcy-S-SR + H2O → ROS
Hcy-SH + R1-S-S-R2 ← → R1-S-S-Hcy + R2-SH → ROS
R = any organic compound in the plasma with a thiol group (-SH) accessible to react with Hcy, such as proteins, cysteine, glutathionine, gamma-glutamylcysteine, or cystinylglycine.
Additionally, Hcy may undergo complicated rearrangements to form Hcy thiolactone (a cyclic thioester), which is chemically reactive and acylates free amino groups such as the side-chain lysine groups in proteins. In the process of forming homocysteinylated proteins further oxidative stress develops and homocysteinylated proteins become damaged and may lose their biological activity. This results in the modification of proteins and in particular the modification of low-density lipoproteins (LDL-cholesterol), which contribute to their retention within the intima and subsequent inflammatory foam cell formation associated with atherogenesis.
Jakubowski has recently been able to demonstrate that Hcy is now considered to be a protein amino acid in humans. In areas of turbulent blood flow the formation of Hcy-N-protein mediated by S-nitroso-Hcy may account for the observation that atherosclerosis originates mostly at branch points and flow dividers in arteries [17].
Recent controversial findings have been published in regards to post percutaneous coronary angioplasty (PTCA) restenosis, one trial has shown a decrease in restenosis and major adverse events of death, nonfatal myocardial infarction, and need for repeat revascularization [18–20], while others have shown no significant effect on the occurrence of restenosis [21–23].
A recent secondary prevention trial by Liem et al. [24] has shown no effect in cardiovascular risk reduction within 2 and now 4 years treatment with low dose folic acid supplementation in patients previously on statin therapy and stable coronary artery disease.
Regardless of the current controversies regarding Hcy as being an independent risk factor or merely a risk marker, Hcy has definitely emerged as one of the novel-multifactorial substrates, which interacts with conventional CVD risk factors of the atherosclerotic process [25, 26].
An attempt to shed some new light on the Hcy – HHcy story as it pertains to the metabolic syndrome (MS), prediabetes (PD), and overt type 2 diabetes mellitus (T2DM) and their association with the multiple metabolic toxicities resulting in an increase of reactive oxygen species (ROS) will be discussed.
Furthermore, an attempt to develop a hypothesis that HHcy is a marker of oxidative and redox stress, as a result of an endogenous folate shuttle, which results in a relative endogenous endothelial folate deficiency due to a folate shuttle phenomenon to preferentially run the endothelial nitric oxide synthase (eNOS) reaction will be explored.
The lack of Hcy catabolic transsulfuration in human vascular cells provides an even more important role for the folate shuttle phenomenon in vascular cells. This would result in a relative endogenous endothelial folate deficiency to operate the remethylation pathway via the methionine – folate cycle culminating in vascular cell HHcy.
This folate shuttle phenomenon could also be operative in hypertension and non-diabetic atherosclerosis due to an associated uncoupling of the eNOS enzyme reaction with decreased endothelial nitric oxide (eNO) production and resultant endothelial cell dysfunction.
While the liver normally contains the full complement of metabolic enzymes to handle HHcy through the remethylation and the transsulfuration catabolic metabolic pathway, it is limited in human vascular cells. Vascular cells in particular do not express cystathionine beta synthase (CBS), the first enzyme of the hepatic transsulfuration pathway; nor do they express the enzyme betaine homocysteine methyltransferase (BHMT), which catalyzes the alternate remethylation pathway in the liver using betaine as a substrate [27, 28].
Therefore in vascular cells, Hcy metabolism is limited to the B12 – folate dependent remethylation pathway catalyzed by methionine synthase of the methionine-folate cycle. Thus, vascular cells and particularly endothelial cells may be especially vulnerable to the higher levels of circulating and endogenous Hcy found in patients with HHcy.
These findings would help to explain the increased mortality and cardiovascular disease associated with HHcy, especially in T2DM [29–31]. In concluding this section it is important to note that:
HHcy is associated with an increased risk of cardiovascular disease, especially in non-insulin-dependent diabetes mellitus [8].
Conclusion
The multiple metabolic A-FLIGHT toxicities (table 4) observed in MS, PD, T2DM, and atheroscleropathy are associated with an increase in ROS production. These ROS result in an increase in oxidative-redox stress and contribute to the uncoupling of the eNOS reaction and endothelial cell dysfunction.
When accessing the role of the dual risk of HHcy, one has to be aware of the synergistic effects of ROS produced by the other multiple toxicities of the A-FLIGHT acronym and their contributing role of oxidative-redox stress to the endothelium. This points to the important concept of global risk reduction when dealing with MS, PD, T2DM, and atheroscleropathy.
The current controversy of HHcy being a marker of risk or a risk factor (important in causation) is not as important as understanding its overall role in the association with endothelial cell damage, dysfunction, and a decrease in eNO bioavailability and how it interacts with other ROS.
The importance of a possible endothelial folate shuttle points to the important role of folate supplementation in these at risk patients in order to recouple the eNOS reaction and increase eNO production in addition to its remethylation properties in the methionine-folate cycle resulting in lowering of Hcy.
Recently we have become aware of the important role of highly sensitive C reactive protein (hsCRP) and the role of inflammation in the development and progression of cardiovascular disease, MS, PD, and T2DM [94–98]. It has been interesting to watch the hsCRP story unfold and since oxidative – redox stress occurs upstream from the inflammatory cycle via the activation of NFkappa B it seems so very important to better understand the role of HHcy and how it interacts with the ROS produced by the other metabolic toxicities of the A-FLIGHT acronym (figure 4).
Dietary folate supplementation is extremely important for proper endothelial cell health maintenance and function. A simplified overview of the positive roles of folate supplementation include the following [99]:
I. Folate is a methyl donor. Important in lowering the toxic Hcy elevation. Hcy elevation may be a marker of folate deficiency or dysfunction.
II. Folate is a hydrogen donor. Important in maintaining and stabilizing the essential tetrahydrobiopterin (BH4) Cofactor of the eNOS enzyme reaction to prevent uncoupling.
III. Folate is an electron donor. Important as an antioxidant to reduce oxidative – redox stress. Important as a chain breaking antioxidant. Stabilizing the eNOS reaction and protecting the generation of eNO.
Numbers II and III could be thought of as pleiotropic effects: The effects of folate supplementation independent of Hcy lowering, which play a significant role in the stabilization of the eNOS reaction and production of eNO as discussed in the section regarding the FOLATE SHUTTLE phenomenon.
Therefore, in addition to nutritional – dietary folate intake [100], pharmacological folate supplementation should now be strongly considered as part of the clinical global risk reduction treatment paradigm for those at risk patients with MS, PD, T2DM, and atheroscleropathy.
Controversy exists as to who should be screened and who should be treated. The following questions are appropriate:
Should we do not test and do not treat?
Should we treat all patients because it makes good clinical sense and therapy is inexpensive?
Should we screen patients with established atherosclerotic and venous thromboembolic disease and high-risk patients with MS, T2DM, and atheroscleropathy and initiate therapy if Hcy is at or above the 9–15 micromol/L range?
The later is preferred and it may be suggested that the current treatment guidelines for the treatment of HHcy should be one of cardiovascular global risk reduction (table
9
) of oxidative – redox stress and reactive oxygen species generated from the multiple metabolic toxicities (table
4
). In addition to global risk reduction, current suggested guidelines for the treatment of HHcy as a result of this review are presented in (table
10
) [
101
].
Table 9
THE RAAS ACRONYM: GLOBAL RISK REDUCTION
R

Reductase inhibitors (HMG-CoA). Decreasing modified LDL-cholesterol, i.e. oxidized, acetylated LDL-cholesterol. Decreasing triglycerides and increasing HDL-cholesterol Improving endothelial cell dysfunction. Restoring the abnormal Lipoprotein fractions. Thus, decreasing the redox and oxidative stress to the arterial vessel wall and myocardium. Redox stress reduction.

A

AngII inhibition or blockade: ACEi-prils. ARBS-sartans. Both inhibiting the effect of angiotensin-II locally as well as systemically. Affecting hemodynamic stress through their antihypertensive effect as well as the deleterious effects of angiotensin II on cells at the local level – injurious stimuli -decreasing the stimulus for O 2 • production. Decreasing the A-FLIGHT toxicities. Plus the direct-indirect antioxidant effect within the arterial vessel wall and capillary.

Antioxidant effects.

Aspirin antiplatelet, anti-inflammatory effect.

Adrenergic (non-selective blockade) in addition to its blockade of Prorenin → Renin

Amlodipine with its calcium channel blocking antihypertensive effect, in addition to its direct antioxidant effects. Redox stress reduction.

A

Aggressive control of diabetes to HbA1c of less than 7. (This usually requires combination therapy with the use of: Insulin secretagogues, insulin sensitizers (thiazolidinediones), biguanides, alpha-glucosidase inhibitors, and ultimately exogenous insulin.) [36–38]

Decreasing modified LDL cholesterol, i.e. glycated – glycoxidated LDL cholesterol. Improving endothelial cell dysfunction. Also decreasing glucotoxicity and the oxidative – redox stress to the intima and pancreatic islet.

Aggressive control of blood pressure, which usually requires combination therapy, including thiazide diuretics to attain JNC 7 guidelines.

Aggressive control of Hcy with folic acid and its associated pleiotropic positive effect on re-coupling the eNOS reaction by restoring the activity of the BH4 cofactor to run the eNOS reaction and once again produce eNO, as well as, its direct antioxidant effects: BH4 and eNOS stabilization Redox stress reduction.

S

Statins. Improving plaque stability (pleiotropic effects) independent of cholesterol lowering. Improving endothelial cell dysfunction. Plus, the direct – indirect antioxidant anti-inflammatory effects within the islet and the arterial vessel wall promoting stabilization of the unstable, vulnerable islet and the arterial vessel wall.

Style: Lifestyle modification: lose weight, exercise, and change eating habits. Stop Smoking Redox stress reduction
Table 10
SUGGESTEDTREATMENT GUIDELINES FOR HHcy
| | | |
| --- | --- | --- |
| Fasting plasma total Hcy (tHcy) levels: | | |
| The prevalence of HHcy in the general population is between five and ten percent (using a threshold set at the 90th to 95th percentile of 15 micromol / liter). Keep in mind that this figure may escalate to, as high as, 30% to 40 % in the elderly. | | |
| Normal: 5–15 micromol/L (Based on table below 5 – 9 micromol/L) | | |
| Moderate: 15–30 micromol/L | | |
| Intermediate: 31–100 micromol/L | | |
| Severe: >100 micromol/L | | |
| Goal of Treatment: 9 micromol / Liter or less. (Based on table below) | | |
| HYPERHOMOCYSTEINEMIA | | |
| Check for secondary causes: | | |
| Renal dysfunction | | |
| Folate B12 B6 deficiency * Significant to exclude Pernicious Anemia | | |
| Hypothyroidism and others (table 2) | | |
| GLOBAL RISK REDUCTION (table 9) | | |
| 1. Diet rich in B vitamins and folate [IF NOT TO GOAL] | | |
| 2. Advance to multivitamin therapy 400 microgram folic acid, 2 mg B6, and 6 mg B12. [IF NOT TO GOAL] | | |
| 3. Advance to prescription strength 1 mg folic acid, 25 mg B6, and 500 microgram B12. [IF NOT TO GOAL] | | |
| 4. Advance to 2–5 mg folic acid, B12 to 1,000 microgram, and B6 25 – 100 mg. | | |
| 5. Sublingual and injectable B12 may be used if necessary, as well as, a trial of Betaine hydrocloride in intractable cases. Higher doses of up to 15 mg of folic acid may be required in hemodialysis patients. | | |
| 6. Global Risk Reduction (table 9) | | |
| Consider: Total Hcy is associated with a graded mortality risk. Patients with known CAD have the following graded risk [95, 97]: | | |
| tHCY in micromol/liter | Relative risk of all cause death. | Relative risk of CAD death |
| < 9 | 1.0 | 1.0 |
| 9 – 14.9 | 1.9 (0.7 – 5.1) | 2.3 (0.7 – 7.7) |
| 15 – 19.9 | 2.8 (0.9 – 9.0) | 2.5 (0.6 – 10.5) |
| > 20 | 4.5 (1.2 – 16.6) | 7.8 (1.7 – 35.1) |
The significance of proper nutrition is of paramount importance; however, once moderate to severe HHcy is identified, existing concepts indicate that diet alone is insufficient to normalize Hcy levels in many patients.
This brief review has attempted to provide the reader with a database of knowledge regarding the current role of Hcy and how it interacts with the MS, T2DM, and atheroscleropathy. For those interested in a more in depth review consideration should be given to review the new Journal: METABOLIC SYNDROME AND RELATED DISORDERS. Volume 1 number 2 has been dedicated to homocysteine and the metabolic syndrome [102–110].
Soinio M et al. have just published an exciting article involving a large cohort of patients (462 men and 368 women in the age group of 45–64 years of age at baseline) with T2DM. They were able to demonstrate that plasma Hcy was a strong and independent risk factor for CHD events. Even though impaired renal function is associated with higher plasma Hcy concentrations, this group was able to show that the association between elevated plasma Hcy level and high incidence of CHD events did not depend on renal function [111].
The damaging – toxic role of Hcy in the vascular bed has been well documented in the medical literature and its diffuse role not only in MS, T2DM, and atheroscleropathy but also in multiorgan damage is emerging [
80
] (figure
7
).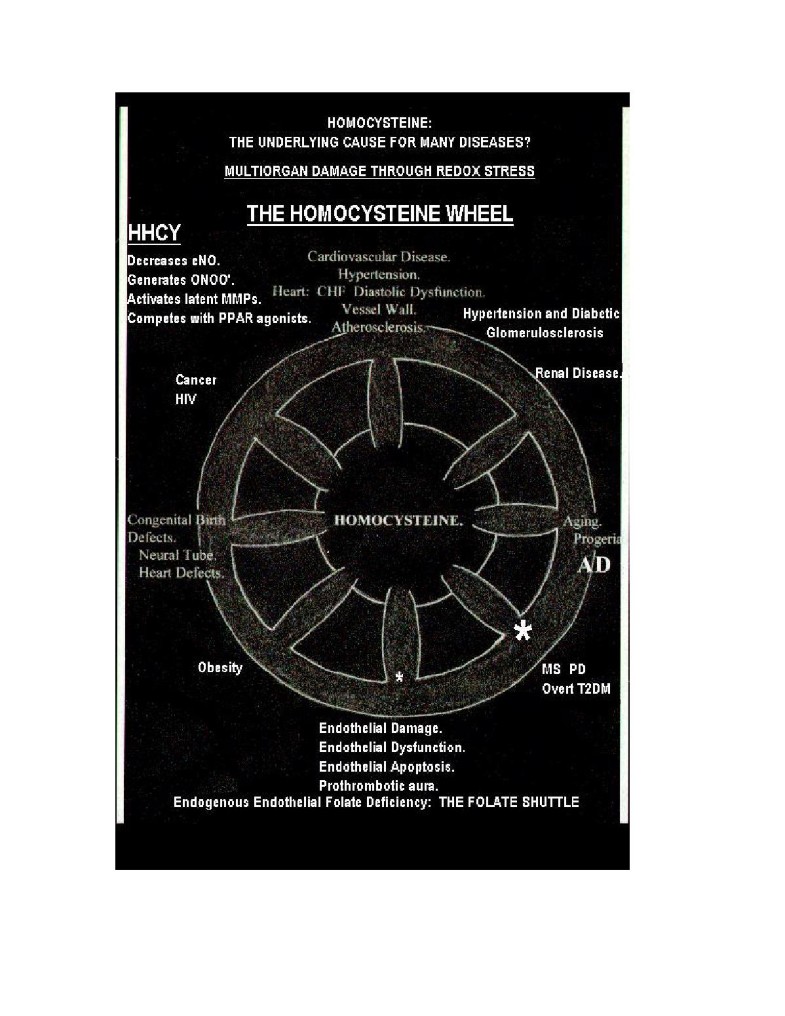 To summarize, HHcy in the general population is an independent risk factor for cardiovascular disease as occurs in thrombotic events (such as arterial and venous occlusion) and ischemic disease such as stroke and myocardial infarction (two of the most common causes of death and disability). With an aging population who are at greater risk of developing these morbid and mortal cardiovascular diseases associated with MS, T2DM, and atheroscleropathy, there should exist a dedicated consideration for folate and possible cobalamin supplementation, in addition too global risk reduction.
Abbreviations
Ang II:

angiotensin II
RAAS:

renin angiotensin aldosterone system
ROS:

reactive oxygen species (O2 •, -OH•, H2O2, 1O2)
AT-1:

angiotensin type one receptor
PKC:

protein kinase C
IAPP:

islet amyloid polypeptide
TGFbeta –1:

transforming growth factor beta- 1
NAD(P)H oxidase:

nicotine adenine di nucleotide phosphate oxidase reduced
AGE:

advanced glycation endproducts
AFE:

advanced fructosylation endproducts
RAGE:

receptor for advanced glycosylation endproducts
ALE:

advanced lipoxidation endproducts
eNOS:

Endothelial Nitric Oxide Synthase
NO:

nitric oxide
BH4:

tetra hydro biopterin
FFA:

free fatty acids
LC acyl –CoA's:

long chain acyl Co enzyme A
VLDL:

Very low density lipoprotein
LDL:

low density lipoprotein
HDL:

high density lipoprotein
MS:

Metabolic Syndrome
PD:

prediabetes
T2DM:

type 2 diabetes mellitus
PAI-1:

plasminogen activator inhibitor –1
H2O:

water
Glut-4:

glucose transporter-4
PI3 Kinase:

phosotidyl inositol 3 kinase
Akt:

protein kinase B
MAP Kinase:

mitogen activated protein Kinase
MAP Kinase Shunt:

The shunting away from the positive Glut 4 PI3 Kinase Akt pathway to the deleterious MAP Kinase pathway promoting remodeling due to an alteration in the NO redox sensitive PI3 Kinase /Akt pathway
IL-6 IL-8:

interleukin-6 interleukin-8
TNF alpha:

tumor necrosis factor alpha
MPO:

myeloperoxidase: Generation of Superoxide (O2 •) via hypochlorous acid HClO-
NF kappa B:

nuclear factor kappa B
ICAM:

inter cellular adhesion molecule
VCAM:

vascular cellular adhesion molecule
MCP-1:

monocyte chemoattractant protein-1
NADH:

nicotinamide adenine dinucleotide reduced
NAD+:

nicotinamide adenine dinucleotide oxidized
DAG:

diacylglycerol
GPx:

glutathione peroxidase
DDAH:

dimethylarginine dimethylaminohydrolase
ADMA:

asymmetrical dimethyl arginine
O2 •– ONOO• :

superoxide – peroxynitrite.
Declarations
Acknowledgements
A part of this study was supported by NIH grants HL-71010 and HL-74185.
This review is dedicated to: Margaret A Flynn PhD. (Professor Emeritus) Department of Family and Community Medicine, University of Missouri School of Medicine Columbia, Missouri for her dedicated work, body of nutritional research, and dedicated teaching of students in medicine.
Authors' Affiliations
(1)
Department of Family and Community Medicine, University of Missouri Columbia, Camdenton, USA
(2)
Department of Physiology and Biophysics, University of Louisville, Louisville, USA
Copyright
© Hayden and Tyagi; licensee BioMed Central Ltd. 2004
This article is published under license to BioMed Central Ltd. This is an Open Access article: verbatim copying and redistribution of this article are permitted in all media for any purpose, provided this notice is preserved along with the article's original URL.