Review

Open Access

Open Peer Review
This article has Open Peer Review reports available.
Beta-palmitate – a natural component of human milk in supplemental milk formulas
Nutrition Journal
2016
15:28
Received: 10 June 2015
Accepted: 7 March 2016
Published: 17 March 2016
Abstract
The composition and function of human milk is unique and gives a basis for the development of modern artificial milk formulas that can provide an appropriate substitute for non-breastfed infants. Although human milk is not fully substitutable, modern milk formulas are attempting to mimic human milk and partially substitute its complex biological positive effects on infants. Besides the immunomodulatory factors from human milk, research has been focused on the composition and structure of human milk fat with a high content of β-palmitic acid (sn-2 palmitic acid, β-palmitate). According to the available studies, increasing the content of β-palmitate added to milk formulas promotes several beneficial physiological functions. β-palmitate positively influences fatty acid metabolism, increases calcium absorption, improves bone matrix quality and the stool consistency, and has a positive effect on the development of the intestinal microbiome.
Keywords
β-palmitic acid
Fatty acids
Human milk
Infant nutrition
Milk formulas
Introduction
Human milk represents the optimal nutrition for a baby after birth and during the whole nursing period. Progressive discoveries of its particular components together with determining their physiological functions has allowed better understanding of this unique liquid. Besides nutritional functions, we can distinguish a whole spectrum of functions in human milk, including immunomodulatory and other physiological activities. Revealing the function and importance of particular components has allowed for improvement of modern supplemental milk formulas for infants who, for various reasons, cannot be breastfed. Modern preparations of supplemental milk nutrition try to copy and imitate the components of human milk to achieve not only its nutritional properties, but also other physiological functions that are provided by human milk to a breastfed child [1].
Conclusions
The composition and functions of maternal milk are unique and they are the basis for the development of modern supplemental milk formulas, providing the most adequate substitution for infants who cannot be, for various reasons, breastfed human milk. Besides particular immunomodulatory factors, the research is focused on the uniqueness of the fat composition of human milk with a high content of β-palmitate. On the basis of available studies, we know about several positive biologic effects of β-palmitate being added to supplemental milk formulas according to the pattern of human milk (Fig.
1
). Further studies are necessary to prove these observations and, at the same time, elucidate other physiological positive effects of β-palmitate on neonate development, not only in the short term, but also in the long term.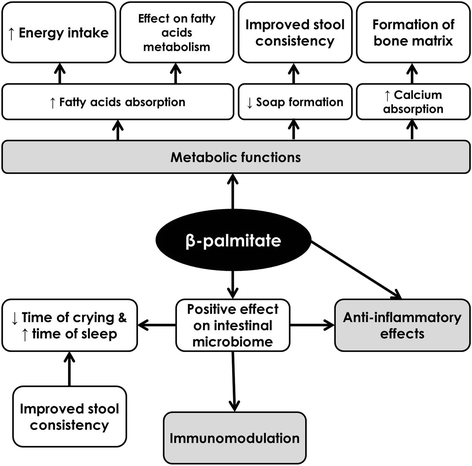 Abbreviations
Foxp3:

Forkhead box protein P3
PPAR-γ:

Peroxisome proliferator-activated receptors
RCT:

Randomised controlled trial
SOS:

speed of sound
TGF-β:

Transforming growth factor β
Declarations
Acknowledgements
This work was supported by project VEGA 1/0252/14 and by project Centre of Experimental and Clinical Respirology (ITMS 26220120004), co-financed from EU sources.
Open AccessThis article is distributed under the terms of the Creative Commons Attribution 4.0 International License (http://creativecommons.org/licenses/by/4.0/), which permits unrestricted use, distribution, and reproduction in any medium, provided you give appropriate credit to the original author(s) and the source, provide a link to the Creative Commons license, and indicate if changes were made. The Creative Commons Public Domain Dedication waiver (http://creativecommons.org/publicdomain/zero/1.0/) applies to the data made available in this article, unless otherwise stated.
Authors' Affiliations
(1)
Department of Pediatrics, Comenius University in Bratislava, Jessenius Faculty of Medicine in Martin, Martin, Slovakia
(2)
BioMed Martin, Comenius University in Bratislava, Jessenius Faculty of Medicine in Martin, Martin, Slovakia
(3)
Department of Pediatrics, University of P.J. Safarik, Faculty of Medicine, Children University Hospital, Kosice, Slovakia
Copyright
© Havlicekova et al. 2016