Review

Open Access

Open Peer Review
This article has Open Peer Review reports available.
Vitamin D in health and disease: Current perspectives
Nutrition Journal
2010
9:65
Received: 26 August 2009
Accepted: 8 December 2010
Published: 8 December 2010
Abstract
Despite the numerous reports of the association of vitamin D with a spectrum of development, disease treatment and health maintenance, vitamin D deficiency is common. Originating in part from the diet but with a key source resulting from transformation by exposure to sunshine, a great deal of the population suffers from vitamin D deficiency especially during winter months. It is linked to the treatment and pathogenesis and/or progression of several disorders including cancer, hypertension, multiple sclerosis, rheumatoid arthritis, osteoporosis, muscle weakness and diabetes. This widespread deficiency of Vitamin D merits consideration of widespread policies including increasing awareness among the public and healthcare professionals.
Keywords
Cystic Fibrosis
Multiple Sclerosis Patient
Cystic Fibrosis Patient
Pancreatic Exocrine Insufficiency
Minimal Erythema Dose
1. Introduction
Vitamin D is a group of fat-soluble prohormones which were identified after the discovery of the anti-rachitic effect of cod liver oil in the early part of the 20th century. The vitamin found in cod liver oil was designated "D" following Vitamin A, B and C, which had been discovered earlier [1]. The two major biologically inert precursors of vitamin D are vitamin D3 (cholecalciferol) and vitamin D2 (ergocalciferol) [2, 3]. Vitamin D3 is formed when 7-dehydrocholesterol in the skin is exposed to solar ultraviolet B (UVB, 290-320 nm), and then converted to previtamin D3. In a heat-dependent process, previtamin D3 is immediately converted to vitamin D. Excess UVB rays transform previtamin D3 into biologically inactive metabolites, tachysterol and lumisterol. Vitamin D2 is plant derived, produced exogenously by irradiation of ergosterol, and enters the circulation through diet [1].
Both vitamin D precursors resulting from exposure to the sunshine and the diet are converted to 25-hydroxyvitamin D [25(OH)D] (calcidiol) when they enter the liver [
4
]. 25(OH)D is the major circulating form of vitamin D and is used to determine vitamin D status. In order to be biologically active, additional hydroxylation in the kidneys is needed to form active 1,25-dihydroxyvitamin D [1,25(OH)2D] (calcitriol) [
5
]. The process of vitamin D formation is summarized in Figure
1
. Humans obtain vitamin D through dietary intake and exposure to sunlight. Very few foods naturally contain vitamin D. Oily fish such as salmon, mackerel, and sardines are rich in vitamin D3. Egg yolks are reported to contain vitamin D though the amounts are highly variable. Moreover, the cholesterol content of egg yolks makes it a poor source of vitamin D. Also, a small number of foods are fortified with vitamin D such as milk, orange juice and some bread and cereals [
6
,
7
]. A list of vitamin D content in different food sources is shown in Table
1
.
Table 1
Vitamin D3 and D2 sources and content*
Source

Typical Vitamin D content

Natural source

Salmon, fresh, wild (3.5 oz)

600-1000 IU of vitamin D3

Salmon, fresh, farmed (3.5 oz)

100-250 IU of vitamin D3 or D2

Salmon, canned (3.5 oz)

300-600 IU of vitamin D3

Sardines, canned (3.5 oz)

300 IU of vitamin D3

Mackerel, canned (3.5 oz)

250 IU of vitamin D3

Tuna, canned (3.6 oz)

230 IU of vitamin D3

Cod liver oil (1 tsp)

400-1000 IU of vitamin D3

Shiitake mushrooms, fresh (3.5 oz)

100 IU of vitamin D2

Shiitake mushroom, sun-dried (3.5 oz)

1600 IU of vitamin D2

Egg yolk

20 IU of vitamin D3 or D2

Exposure to sunlight, UVB (0.5 MED†)

3000 IU of vitamin D3

Fortified foods

Fortified butter

50 IU/3.5 oz, usually vitamin D3

Fortified milk

100 IU/8 oz, usually vitamin D3

Fortified orange juice

100 IU/8 oz, vitamin D3

Fortified yogurts

100 IU/8 oz, usually vitamin D3

Infant formulas

100 IU/8 oz, vitamin D3

Fortified margarine

430 IU/3.5 oz, usually vitamin D3

Fortified cheeses

100 IU/3 oz, usually vitamin D3

Fortified breakfast cereals

100 IU/serving, usually vitamin D3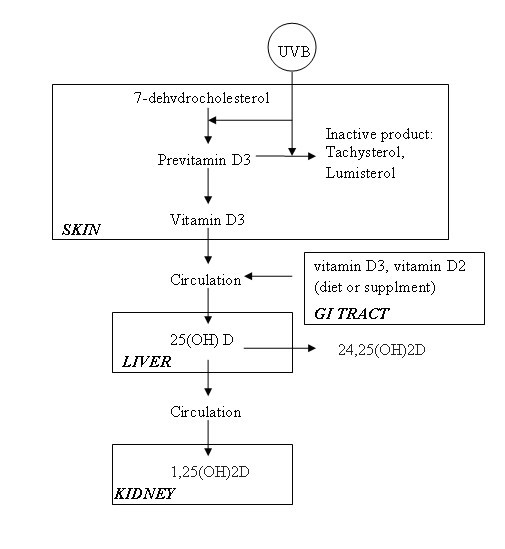 Vitamin D plays an important role in maintaining an adequate level of serum calcium and phosphorus. Without vitamin D, only 10 to 15% of dietary calcium and about 60% of phosphorus is absorbed [8–10]. Therefore vitamin D has a great effect in forming and maintaining strong bones. It has also recently been found that vitamin D receptors exist in a variety of cells thus it has a biological effect on more than mineral metabolism. The aim of this report is to review key aspects relating to vitamin D deficiency, its causes, and studies on prevention of and treatment of major conditions/diseases. Thus, following a general literature review on deficiency and its causes, an overview of major meta-analyses of Vitamin D supplementation is given. This systematic approach covers meta-analyses listed in Pubmed during the past 2 decades.
2. Vitamin D deficiency
Vitamin D deficiency and intoxication
Vitamin D deficiency occurs when people do not have an appropriate dietary intake or exposure to UVB rays. It is universally accepted that the circulating level of 25-hydroxyvitamin D should be used as an indicator of vitamin D status due to its ease of measurement, long half-life in circulation (approximately 2 or 3 weeks), and the correlation of its level with clinical disease states [1, 11, 12]. Although no consensus on an optimal level of 25-hydroxyvitamin D has been reached, vitamin D deficiency is defined by most experts as a level of less than 20 ng per millilitre (50 nmol per litre) [13–16]. A level of 25-hydroxyvitamin D of 21 to 29 ng per millilitre (52 to 72 nmol per litre) is considered as an insufficiency of vitamin D, and sufficient vitamin D should reach a level of 30 ng per millilitre or greater [17].
In 1997, the Institute of Medicine of the US National Academy of Sciences recommended new adequate intakes for vitamin D as 200 IU for children and adults up to 50 years of age, 400 IU for adults 51 to 70 years of age, and 600 IU for adults 71 years of age or older [18]. However, a great number of studies revealed that without adequate sun exposure, children and adults require approximately 800 to 1000 IU per day [19–22].
Vitamin D intoxication is extremely rare. Studies showed that doses of more than 50,000 IU per day, which raises 25-hydroxyvitamin D to more than 150 ng/ml, is associated with hypercalcemia and hyperphosphatemia [8, 9, 23]. Even doses of 10,000 IU of vitamin D3 per day for up to 5 months did not cause toxicity [24]. However, patients with chronic granulomatous disorders should be cautious with the dose of vitamin D since macrophage production of 1,25-dihydroxyvitamin D causes hypercalcemia and hyperphosphatemia [8, 9, 23].
2.1Causes of vitamin D deficiency
There are many causes of vitamin D deficiency. Generally, they can be divided into two groups: UVB-related deficiency and medical/physical condition-related deficiency.
2.1.2 UVB-related deficiency
The elderly
The elderly, due to the decreased presence of skin 7-dehydrocholesterol which is the precursor for UVB mediated synthesis of vitamin D, are particularly at risk of vitamin D deficiency. Moreover, reduced mobility or institutionalization that discourages sun exposure, reduced renal production of 1,25-dihydroxyvitamin D as well as decreased intake of fortified foods pose great difficulties in vitamin D formation in body [25, 26].
Dark skin
People with dark skin have great amounts of melanin in their epidermis. Melanin competes with 7-dehydrocholesterol for absorption of UVB photons. Therefore, people of color are less efficient in producing vitamin D than are whites. It is reported that a person with skin type 5/6 (dark skin) requires 10-50 times the exposure to sunlight to produce the same amount of vitamin D as does a white person with skin type 2/3 [27].
Season, latitude, and the time of day
It has been established that the ozone layer can absorb UVB radiation above 290 nm which is responsible for generating previtamin D3. Zenith angle, defined as the angle of the sunlight reaching the Earth's surface, decides the thickness of ozone layer which sunlight needs to penetrate. The thicker the ozone layer is, the fewer amounts of UVB photons can reach the earth, thus few previtamin D3 can be produced. Zenith angle is dependent on factors such as time of day, season of the year, and latitude. Thus those factors have great effects on vitamin D production [28, 29]. For example, residents of Boston (42°N), Edmonton, Canada (52°N) and Bergen, Norway (61°N) can not produce sufficient quantities of vitamin D in their skin for 4, 5, and 6 months, respectively [6].
Sunscreen users
Sunscreens can efficiently absorb UVB radiation. This dramatically prevents the interaction of UVB with 7-dehydrocholesterol, the process of previtamin D3 generation. It has been shown that when used properly, a sunscreen with a sun protection factor of 8 reduces the production of previtamin D3 by 95%, and 99% by a sun protection factor of 15 [30, 31].
2.1.2 Medical/physical condition-related deficiency
Epidemiology of vitamin D inadequacy
Several studies showed that 40 to 100% of U.S. and European elderly men and women still living in the community (not nursing homes) are deficient in vitamin D [13–15]. It has already become a largely unrecognized global epidemic. Vitamin D inadequacy can be seen in young adults as well as healthy children. For example, 48% of white preadolescent girls in a study in Maine [46] and 52% of Hispanic and black adolescents in a study in Boston are vitamin D deficient [47]. In Europe, where very few foods are fortified with vitamin D, children and adults would appear to be at especially high risk [48–50]. A study of middle aged British adults showed that 60% are vitamin D insufficient, and the number rose to 90% during winter and spring [51].
3. UVB in vitamin D formation
The resurgence of vitamin D deficiency has been attributed to the lack of exposure to sunlight that has been a growing concern in the past few decades owing to associations with skin cancer. From this standpoint, along with the modern predominance for indoor living and working, it is apposite to look at photo-induced vitamin D activation. In future we may replace artificial light with a form that is more efficient at meeting our requirements for vitamin D. Ultraviolet (UV) rays are electromagnetic waves with wavelength of between 400 nm and 10 nm. UV can be divided into three components according to wavelength: UVA (320-400 nm), UVB (290-320 nm), and UVC (100-290 nm). They have different skin penetration abilities, and generate different biological effects.
UVB plays a key role in vitamin D formation. It is absorbed by the epidermal layer, where the highest concentration of 7-dehydrocholesterol exists. It has been found that the optimum wavelength range for the production of vitamin D is between 295 and 300 nm. This narrow range is sometimes referred to as D-UV [52]. As vitamin D is rare in the diet consumed by human beings, the major source of vitamin D is exposure to sunlight, particularly the UVB component [23, 53, 54]. Another advantage of UVB exposure in formation of vitamin D is that UVB exposure does not result in excessive production of vitamin D, which causes risks of intoxication. This can be explained that the previtamin D3 that is formed and the thermal isomerization product vitamin D3 that does not go into the circulation absorb UVB radiation and isomerize to several photoproducts which have little activity on calcium metabolism [55].
Choice of wavelength
As UVB exposure is not associated with vitamin D intoxication, the major concern of using UVB to boost vitamin D content is the erythema reaction, which is a result of cell irritation and destruction caused by ultraviolet radiation. In the UVB region, the wavelength range between 290 and 297 nm has the greatest erythema effect on the human body with a steep decrease above 297 nm. Therefore UVB tubes with spectral features of minimal irradiance from 290 to 297 nm should always be chosen to treat vitamin D deficiency.
The duration of exposure
The duration of exposure determines the dose of UVB one receives. The product of the UVB lamp power output (mW/cm2) and the duration of exposure is UVB radiation (mJ/cm2). Minimal erythema dose (MED) is defined as the minimum amount of UVB radiation that produces redness 24 hours after exposure. It is used when using UVB to treat psoriasis in order to minimize the potential for developing erythema. Therefore the radiation should not be more than one MED for safety considerations when treating vitamin D deficiency. Thus, a limit should be put on exposure time depending on power output.
It should be noted that MED varies with skin type (Table
2
) and there are large variations in MED even within the same skin type [
56
]. According to the U.S. Food and Drug Administration and the American Academy of Dermatology, there are six skin-type categories: skin type I-VI. Generally the darker the skin, the harder it is for the skin to burn, thus the higher the value of MED which results in a longer exposure duration to achieve a certain value of MED.
Table 2
Skin type categories from Food and Drug Administration (FDA) and the American Academy of Dermatology.
| Skin types | Sun history | Example |
| --- | --- | --- |
| I | Always burns easily, never tans, extremely sensitive skin | Red-headed, freckled, Celtic, Irish-Scots |
| II | Always burns easily, tans minimally, very sensitive skin | Fair-skinned, fair-haired, blue-eyed Caucasians |
| III | Sometimes burns, tans gradually to light brown, sun-sensitive skin | Average-skinned Caucasians, light-skinned Asians |
| IV | Burns minimally, always tans to moderate brown, minimally sun-sensitive | Mediterranean-type Caucasians |
| V | Rarely burns, tans well, sun-insensitive skin | Middle Easterners, some Hispanics, some African-Americans |
| VI | Never burns, deeply pigmented, sun-insensitive skin | African-Americans |
3.1 Vitamin D production
It has been reported that exposure of 6-10% of the body surface to 1 MED is equivalent to ingesting about 600-1000 IU of vitamin D [57]. In general, when using UVB radiation in vitamin D formation, the factors influencing vitamin D production can be summarized as: the UVB radiation, the exposure duration and body exposure area. The stronger the radiation is (under certain limits), the longer the exposure duration is (under certain limits), the larger the body exposure area is, the more vitamins can be produced.
A number of studies have been conducted to improve vitamin D content using UVB rays [58–61]. 45 female psychogeriatric patients in nursing homes received 1/2 MED UVB irradiation, three times per week, for 12 weeks. Results showed that 1,25-dihydroxyvitamin D levels increased significantly from 30 nmol/l to 60 nmol/l on average [62]. Another study using UV light to treat vitamin D deficiency resulted from malabsorption indicated that 25-hydroxyvitamin levels increased by 28% at the end of 8 weeks [63].
3.2 Contraindications
UVB irradiation does not appear to suit some individuals who develop headache, nausea and possibly vomiting and rise of temperature after exposure. Also people with sensitive skin may react strongly to UV rays, thus are unsuitable for UV treatment [64].
Certain drugs could make individuals become more susceptible than normal to the effects of UV radiation, examples being gold, the sulphonamides, insulin, thyroid extract, and quinine. Therefore UVB should not be used in conjunction with these drugs. An area which has recently been subjected to doses to X-rays is not suitable for UVB treatment since it may cause carcinoma of the skin. UV may also cause the aggravation of certain diseases such as pulmonary tuberculosis, acute eczema or dermatitis [64]. Thus it is not appropriate to apply UVB in these conditions.
3.3 Vitamin D intake in different conditions
The association of low status of vitamin D with several diseases has been long established. Increasing vitamin D levels through oral supplementation or sunlight exposure is vital in the management of these conditions. Also, vitamin D has been used to treat some minor abnormalities, such as tooth loss and depressed moods, in order to maintain a healthy lifestyle. Moreover, research during the past two decades has highlighted the important role of vitamin D in reducing the risks of a series of conditions including cancer, multiple sclerosis, hypertension, to name a few. In this section, the utility of vitamin D for different purposes such as disease management, prevention, and improvement of quality of life will be discussed.
4. Disease management
A large number of trials have been conducted over the past two decades into the effects of vitamin D on disease management and prevention. The efficacies of vitamin D, as demonstrated by the meta-analyses reported in this period, are largely unconvincing apart from in relation to falls and fractures in the elderly. These meta-analyses, summarized in Table
3
do not show a substantial role for vitamin D either through prevention or treatment of many conditions for which it is associated. It should be noted that many of the meta-analysis relied on disparate studies which introduces significant questions regarding the results. Despite this overview, and in a somewhat unorthodox approach some key studies will be discussed below that may lead to more focused and appropriate trials.
Table 3
Systematic reviews on Vitamin D for prevention or treatment (in chronological order)
Area

Number

of studies

Type

Doses

Conclusion

Reference

Cardiovascular events

17

Prospective

~1000IU

S not SS

162

Cardiometabolic outcomes

31

Observ/Trial

Range

No effect

163

Fracture prevention

7

Randomised

10-20 mcg

+ Ca

No effect

Reduced risk

164

164

Physical performance

8

8

Observational

Intervention

-

-

Positive (5/8)

Mixed

165

165

Kidney disease

(-dialysis)

16

RCT

-

Uncertain

166

Kidney disease (+dialysis)

60

RCT

-

Uncertain

167

Cystic fibrosis

3

(q)RCT

800-1600IU

No effect

168

Risk of falling

8

RCT

700-1000IU

200-600IU

Reduced risk

No effect

169

169

Hypertension

11

RCT

-

S - SS

170

Risk of falling

111*

RT or interv.

-

No effect

171

Fracture prevention

45

(q)RCT

-

+Ca

No effect

S not SS

172

172

Risk of Type 1 diabetes

5

Observational

-

Uncertain

136

Parathyroid hormone

52

Intervention

_

Decrease

173

Mortality

18

RCT

2300-2000IU

Uncertain

174

Risk of fall/fracture

9

-

-

Decrease (trend)

175

Risk of fracture

12

RCT

700-800IU

400IU

Decrease (trend)

No effect

176

176

Risk of fall

10

RCT

-

Decrease

177

Bone density Fracture

17

17

RCT

RCT

-

-

Uncertain

Reduction

178
5. Vitamin D associations with disease prevention
6. Health maintenance and Vitamin D
Besides treating and preventing a range of disease, vitamin D has also been applied in managing minor abnormalities so as to improve quality of life.
Periodontal disease is a common chronic inflammatory disease characterized by loss of periodontal attachment. It is the leading cause of tooth loss [146–150] which has a great impact in nutrient intake the quality of life [151–153]. Several epidemiologic studies revealed that there is link between osteoporosis and tooth loss, which indicate that the cause of osteoporosis could also contribute to periodontal disease. A 3-year study showed that supplementation with vitamin D (700 IU/d) plus calcium (500 mg/d) significantly reduced tooth loss in older people [154].
Mood changes with season, a common phenomenon is that anxiety and depression increase during winter months. An extreme case of this seasonality is a clinical syndrome called seasonal affective disorder (SAD), also known as winter depression. One explanation is the changing level of vitamin D3 during winter. One study, including 44 healthy subjects during winter, investigated the efficacy of vitamin D3 in enhancing mood. Results on a self-report showed that vitamin D3 significantly enhance positive affect [155].
Vitamin D has also been found to play an important role in brain development and function [156–159]. The study pointed out the wide distribution of vitamin D receptors throughout the brain. It showed that vitamin D has the ability to affect proteins which are known to be directly involved in learning and memory, motor control, and possibly even maternal and social behavior [160]. Maintaining vitamin D sufficiency in utero and during early life ensures the normal receptor transcriptional activity in the brain. This may be vital for brain development and also the maintenance of mental function later in life [161].
As shown in Table 3 the postulated efficacies of vitamin D, as demonstrated by the meta-analyses reported are largely unconvincing for most diseases/conditions apart from in relation to falls and fractures in the elderly [162–178]. Despite considerable efforts to explore the benefits of vitamin D, little convincing evidence has been presented in the form of meta-analyses in relation to the cardiovascular system, kidney function, Cystic fibrosis, diabetes, and mortality. The meta-analyses relied on disparate studies with varied approaches to measuring vitamin D analogues which may introduce significant questions regarding the results. It is suggested that further standardization should be introduced regarding which forms of vitamin D are measured and how they are measured.
Conclusions
Vitamin D inadequacy is a global problem. Approximately 36% of otherwise healthy young adults and up to 57% of general medicine inpatients in the United States suffer from vitamin D inadequacy. These figures are even higher in Europe [71].
In the past, vitamin D intake was associated with the prevention of rickets in children whereas its effect in other areas has received little attention. In recent years, vitamin D deficiency has also been linked with the pathogenesis and/or progression of several disorders, including cancer, hypertension, multiple sclerosis, diabetes although the evidence for the associations of vitamin D with these conditions is generally weaker than it is for bone-related disease.
Although recommendations of daily vitamin D intake have been provided, higher levels are required in order to have real preventive or treatment effects as numerous studies have proved. UVB radiation plays an alternative in improving vitamin D content other than oral supplementation. Its advantage is that it will not cause vitamin D intoxication since excessive vitamin D will be broken down by UVB. However, a number of factors of the UVB such as wavelength, duration of exposure are needed to be carefully controlled so as to avoid erythema.
Despite the close link of vitamin D with human health, vitamin D inadequacy is not widely recognized as a problem by physicians and patients. Greater awareness of this problem is required among researchers, clinician, and patients of the high prevalence of vitamin D inadequacy.
Declarations
Acknowledgements
The work was funded by the London Development Agency through a London Innovation Placements Programme located at Allergy Matters Ltd.
Authors' Affiliations
(1)
AllergyMatters Ltd, 5a Kingston House Estate, Long Ditton Surrey, UK
(2)
School of Life Sciences, Kingston University, Kingston upon Thames, UK
Copyright
© Zhang and Naughton; licensee BioMed Central Ltd. 2010
This article is published under license to BioMed Central Ltd. This is an Open Access article distributed under the terms of the Creative Commons Attribution License (http://creativecommons.org/licenses/by/2.0), which permits unrestricted use, distribution, and reproduction in any medium, provided the original work is properly cited.