Erratum to: 'Multimodal perioperative care plus immunonutrition versus traditional care in total hip arthroplasty: a randomized pilot study'
Miguel Aprelino Alito

1 and

José Eduardo de Aguilar-Nascimento

2, 3, 4

Email author
Nutrition Journal
2016
15:55
Received: 9 May 2016
Accepted: 9 May 2016
Published: 18 May 2016
Unfortunately, the original version of this article [
1
] contained an error. There is an error in Fig.
2
of this article. It has been labelled incorrectly and the groups were inverted. The correct figure with correct labels has been included here.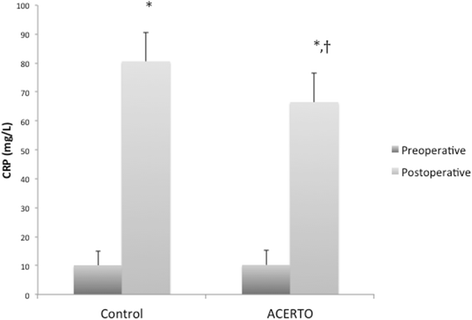 Open AccessThis article is distributed under the terms of the Creative Commons Attribution 4.0 International License (http://creativecommons.org/licenses/by/4.0/), which permits unrestricted use, distribution, and reproduction in any medium, provided you give appropriate credit to the original author(s) and the source, provide a link to the Creative Commons license, and indicate if changes were made. The Creative Commons Public Domain Dedication waiver (http://creativecommons.org/publicdomain/zero/1.0/) applies to the data made available in this article, unless otherwise stated.
(1)
Brazilian Society of Orthopedics and Traumatology, Cuiabá, MT, Brazil
(2)
Federal University of Mato Grosso, Cuiabá, Brazil
(3)
UNIVAG, Varzea Geande, Brazil
(4)
Rodovia Helder Candia, Cond. Country casa 15, Cuiabá, 78048-150, Brazil
© Alito and de Aguilar-Nascimento. 2016