Research
Open Access
Open Peer Review
This article has Open Peer Review reports available.
Lower energy expenditures in infants from obese biological mothers
Nutrition Journal
2008
7:15
Received: 12 October 2007
Accepted: 16 May 2008
Published: 16 May 2008
Abstract
Background
Previous studies in adults have found that a lower resting metabolic rate is a predictor of future body weight gain.
Methods
To determine if energy expenditures are reduced in infants born to obese mothers, 21 healthy infants (3.9 ± 1.9 months) born to lean (n = 7, BMI < 25 kg/m2), overweight (n = 7, BMI between 25–30) and obese (n = 7, BMI>30) mothers, respectively, participated in this study. Measurements of infant weight, length and skin-fold thicknesses, and mother's weight and height were obtained. Infant energy expenditure was measured for 4-hours using the Enhanced Metabolic Testing Activity Chamber. Metabolic data were extrapolated to 24-hours and adjusted for differences in age and body composition using linear regression analysis (SPSS, version 13) and expressed as kcal/day. Differences between the three groups were determined by one way ANOVA with the Bonferroni Post Hoc test procedure (p < 0.05).
Results
Infants born to obese mothers had a greater BMI (16.7 ± 1.2) than those from both the overweight (15.3 ± 1.4, p < 0.05) and lean groups (15.1 ± 1.3; p < 0.05). The infants of obese mothers had greater body fat (26.8 ± 2.1) than those from the overweight group (22.4 ± 5.0, p < 0.06). Infant BMI correlated (r = 0.53; p < 0.01) with that of their mothers. Extrapolated 24-h EE (kcal/d) correlated with fat-free mass (r = 0.94; p < 0.01). Infants extrapolated 24-h EE from both obese (472.1 ± 30.7 kcal/d; p < 0.05) and overweight groups (471.8 ± 39.5; p < 0.05) were lower than those of the lean group (532.4 ± 30.7).
Conclusion
Lower extrapolated 24-h energy expenditure was present in infants of overweight and obese biological mothers during the first three to six months of life. Furthermore, these infants showed increased BMI and body fat. If these changes are unchecked future childhood obesity may result.
Keywords
Metabolic RateStandard Deviation ScoreInfant FeedingMaternal ObesityOverweight Group
Background
Body composition of biological mothers might influence that of their offspring. For example, maternal obesity was associated with infant body fat [1] and greater subcutaneous adipose tissue in infants [2]. Furthermore, a greater maternal BMI during the first trimester of pregnancy was related to a higher prevalence of obesity in children two to four years of age [3]. It was also reported that a greater maternal BMI was a modest predictor of their daughter's relative weight at five years of age [4].
There are several possible factors of infant and childhood obesity not necessarily related to maternal obesity per se. For example, toddlers of obese mothers are more food compliant thus increasing energy intake [5]. Furthermore, there was an association of both maternal overweight and obesity with breast feeding duration [6]. We have reported that infants of obese mothers consume more energy in a shorter period of time and are fed less frequently compared to those born to normal weight mothers [7]. However, large maternal weight loss resulting from obesity surgery prevented the transmission of obesity to children [8].
Indirect whole body calorimeters have been utilized for metabolic studies in adults since the early 1980s [9]. It was reported that a lower metabolic rate predicts body weight gain in adults [10]. One of the first studies in infants to address metabolic changes in relation to future obesity was conducted by Roberts et al in 1988 [11]. These investigators reported that infants who became obese had lower total daily energy expenditure (EE) at three months of age due to a reduction in physical activity. Their study involved measurement of total daily energy expenditure by doubly-labeled water and postprandial metabolic rates by indirect calorimetry. Other studies utilizing similar techniques have reported inconsistent results. Wells et al [12] detected no relationship between total or sleeping energy expenditures and future indices of body fatness after 3.5 years of follow-up, but Stunkard et al [13] found both increased energy intake and total daily energy expenditures to be associated with increased body size at 2-years of age in infants born to obese mothers, though no relationship existed between infant sleeping metabolic rate and maternal obesity. The indirect calorimetry systems utilized in these studies [11–13] were not appropriate for infant studies due to the lack of a means for parental interaction and the short duration of one or two hours of metabolic measurements. Therefore, we conducted a well controlled metabolic study in infants from lean, overweight and obese biological mothers with a sophisticated indirect whole body calorimeter designed for clinical use in infants which allowed the measurements of all of the components of energy expenditure during one four-hour metabolic testing session [7, 14, 15].
Results
Anthropometrics
There were no significant differences in regards to age, length and body weight among the three groups of infants when classified according to their biological mothers BMI (Table
1
). However the BMI of infants of obese mothers was greater (p < 0.05) as compared with both their overweight and lean counterparts. The body fat percentage in the infants of obese mothers was also greater in comparison to those in the overweight (p < 0.06) and lean groups (Table
1
). The weight-for-length percentile differences were more than double (p < 0.05) between the lean and obese infants. Moreover, there was a positive correlation between the maternal BMI (r = 0.53; p < 0.01) and that of their infants (Figure
2
). Even though not significant, there was a trend for a progressive increase in the standard deviation score for body weight between those infants in the lean (0.19) and those in the obese (0.43) groups (Table
1
).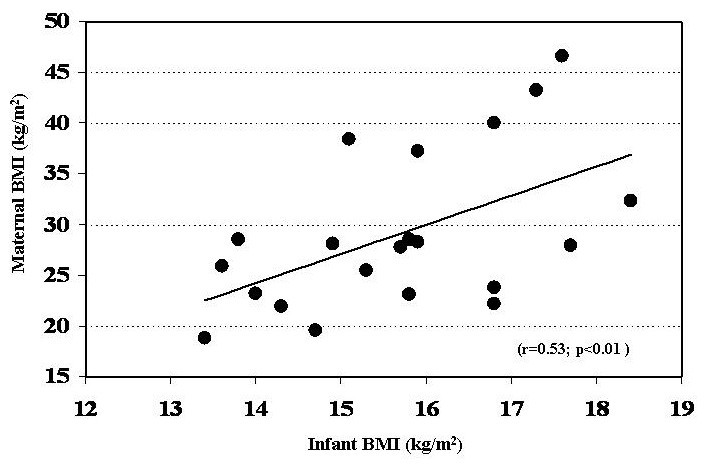 Energy Metabolism
There was a strong positive correlation (r = 0.94; p < 0.01) between fat-free mass and 24-hour extrapolated energy expenditure (Figure
3
). A similar positive relationships with fat-free mass was found for sleeping metabolic rate (r = 0.93; p < 0.01). Fat-free mass and age were significant coefficients (p < 0.05) in the regression equation utilized to adjust 24-h energy expenditure while all three coefficients (fat-free mass, fat mass and age) were significant predictors in the regression equation for adjustment of sleeping metabolic rate (Table
2
).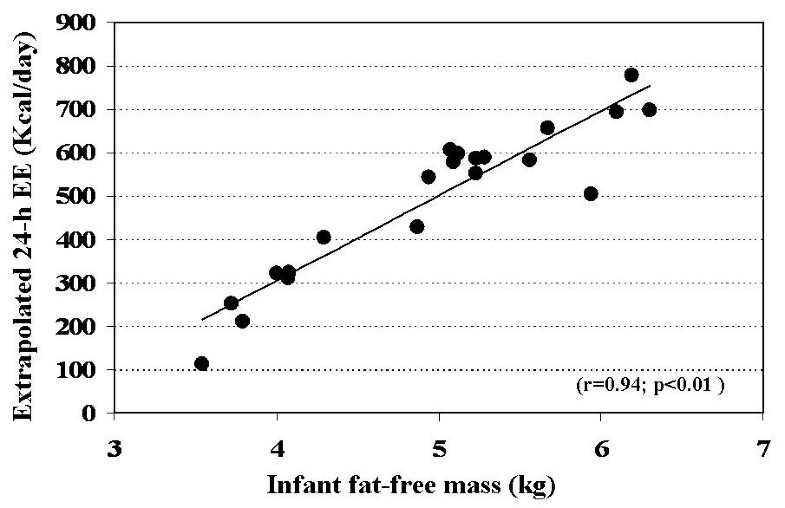 The extrapolated 24-hour EE (p < 0.05) was lower in both groups of infants from overweight and obese mothers in comparison to their lean counterparts (Table
3
). There were no differences in sleeping metabolic rate adjusted for fat-free mass, fat mass and age among the three groups of infants (Table
3
). Moreover, nutrient utilization was not different in regards to increasing maternal BMI (Table
3
). There were also no significant differences in energy intake among the three groups of infants during the course of the four-hour metabolic measurement, though infants of obese mothers appeared to consume more energy. Moreover, infants of obese mothers slept less (p < 0.05) than those from the overweight group (Table
3
). Finally, no differences were found in physical activity among the three groups of infants (Table
3
).
Table 3
Energy metabolism, physical activity and the amount of time asleep during the metabolic test in infants grouped according to maternal BMI
| | Lean | Overweight | Obese |
| --- | --- | --- | --- |
| Number of infants | 7 | 7 | 7 |
| Energy intake during 4-hour study (kcal) | 127.2 ± 91.4 | 136.6 ± 71.2 | 220.4 ± 127.2 |
| 24-hour energy expenditure (kcal/day)1 | 532.4 ± 30.7 | 471.8 ± 39.5* | 472.1 ± 76† |
| Sleeping metabolic rate (kcal/day)1 | 407.5 ± 24.7 | 407.5 ± 37.2 | 402.9 ± 35.8 |
| Sleeping time during metabolic test (%) | 39.3 ± 21.6 | 50.0 ± 20.9 | 21.4 ± 11.1‡ |
| Respiratory quotient (VCO2/VO2) | 0.86 ± 0.04 | 0.84 ± 0.05 | 0.85 ± 0.08 |
| Physical activity (Oscillations/min/kg BW) | 4.3 ± 1.7 | 6.8 ± 7.8 | 7.6 ± 2.4 |
Discussion
In this study we demonstrated that infants born to overweight and obese biological mothers exhibited lower extrapolated 24-h EE than those of lean mothers. In other studies parental obesity was associated with a lower resting metabolic rate in children [25], though others did not find any decline in the resting metabolic rate in already obese adolescents [26]. We also found that 3–6 month old infants born to obese mothers had a greater percentage of body fat along with greater weight-for-length and weight-for-age percentiles. Moreover, the BMI of the infants was related to that of their mothers. We utilized maternal BMI for classifying the infants since it is a well established criterion for determining obesity in adults [16] and is highly correlated with body fat in both children and adults [27].
The Infants in the obese group spent the least amount of time asleep during the metabolic test. This might be due to them spending more time feeding as evidenced by the greater amount of energy consumed. Furthermore, the metabolic test was conducted between the hours of 9:00 AM and 1:00 PM where sleeping and feeding habits might differ in comparison to that during evening or night periods. Moreover, the lack of differences in the respiratory quotient and the amount of physical activity among the three groups of infants suggest that other metabolic or physiologic components might account for the reduction of extrapolated 24-h energy expenditure. In a previous 24-hour metabolic study, infants born to obese mothers slept more, consumed a greater portion of their energy intake as carbohydrate and tended to have a greater respiratory quotient than their lean counterparts [14]. It is possible that over a 24-hour period, greater sleeping time and more carbohydrates being oxidized to lipids might be contributing to a lower overall metabolic rate. Moreover, it is possible the greater carbohydrate intake might reduce the thermic effect of food thus also contributing to a reduced metabolic rate [28]. However, it is very difficult to measure this parameter accurately in infants. It is possible that the shorter duration of this study might have masked these contributions to a lower metabolic rate.
It is possible that the lower extrapolated 24-h EE found in infants of obese mothers might be an underlying contributing factor to the relationships between childhood and adult BMI's found in previous studies [3, 4, 27]. Moreover, two additional reports described that if children were in the upper percentiles (85–95th) for BMI, there was a probability of greater than 80% that they would be obese at age 35 [27, 29]. Finally, the association between infantile and maternal BMI was found in a large cohort study where over 52,306 infants were followed up after birth [30]. The recent studies of Kral et al [8] regarding the prevalence of obesity of children from mothers who underwent weight reduction through bariatric surgery suggest an abrogation of the expression of genetic factors in offsprings in post severely obese mothers and that external factors may be more significant in determining weight gain of their children.
In our previous study [7] where maternal obesity and infant feeding interactions were recorded during 24-hour metabolic measurements in the EMTAC, infants born to obese mothers were shown to consume more energy in a shorter period of time than their leaner counterparts. Obese biological mothers also spent less time interacting with their babies than their normal weight counterparts. The 24-hour measurements of food intake are evidently more accurate and reliable indicator of total energy intake than the four-hour measurement performed in this experiment, though the infants of obese mothers appeared to ingest more energy and were spending more time awake even in a brief period of observation.
We have found in a previous study, utilizing infants from similar ethnic backgrounds, that at least four-hours are necessary to obtain an accurate measurement of infant metabolic rate [14]. Due to employment obligations and other commitments, the parents of the infants in our study were unable to stay for a longer period of measurement, hence we utilized the minimum time of four-hours that provided valid results [14]. To date we have studied over 150 infants with various clinical conditions in the EMTAC [14, 15, 21, 23, 31]. All of the mothers reported feeling comfortable with utilizing the hand access ports when caring and feeding their infants. This probably reduced, or eliminated, the separation anxiety and/or discomfort of the infants that was associated with previous measurements of metabolic rate [11, 32, 33].
In regards to energy metabolism, extrapolated 24-h EE and sleeping metabolic rates were both highly positively correlated with fat-free mass. This has been shown in many previous studies in adults [9, 10] and infants [14, 15, 21]. This is suggestive that fat-free mass is the main metabolic component of the body. However, none of these relationships had an intercept equal to zero; therefore, this necessitated the adjustment of the energy expenditure data for differences in body composition and age utilizing regression analysis, a mathematical methodology that has been validated in adults [9, 10] and in infants [21]. Moreover, body weight alone cannot be used to adjust 24-h EE because the relationship between the two parameters does not pass through zero. This is due to different proportions of metabolically active muscle mass in relation to the assumed non-metabolically inactive fat-mass in same sized individuals, thus causing errors in the adjustment of 24-h EE [9, 10].
Actual feeding practices and the relationship to obesity have been studied for decades. In a recent review of 3600 publications in the area of infant feeding and related cardiovascular risk factors [34], it was found that breast feeding, especially for a longer duration, was found to be protective against future obesity. The infant feeding method and obesity in the Avon longitudinal study of parents and children showed that there was a protective association with attenuation of fat-free mass when breast feeding was prolonged for over six months [35] while maternal feeding restriction was an important factor determining the effects of breast feeding on future overweight [36]. Other studies [37, 38] found that obese mothers of a low social class were more likely to formula feed thus leading to obesity in their offspring. In our study, all infants were formula fed, and the resulting increase in body fatness seems to coincide with the results of previous studies [33, 37, 38].
Most of our study population was from Hispanic origin. This is in contrast to the mainly Caucasian subjects in some of the previous studies of the relationship between metabolic rate and obesity [25–27]. It has been reported in another previous study that resting metabolic rate is lower in Afro-American boys when compared to their Caucasian counterparts. Moreover, Afro-American girls had lower total daily and activity energy expenditures than Caucasians of similar age and sex [39]. It is possible that infants from certain ethnic backgrounds begin to show metabolic characteristics that might predispose them to future childhood obesity right from the time of birth.
The onset of obesity can occur in any infant, regardless of ethnic background, that has a lower than average metabolic rate. Knowing which factors play a role in determining which infant is prone to excess body weight gain may allow early lifestyle interventions in order to prevent the future onset of childhood obesity. Future studies with a larger number of infants from Caucasian, and other ethnic groups, need to be conducted in order to determine which infants show metabolic changes that might predispose them to future childhood obesity. Finally, our results indicate that lifestyle interventions should begin right from the time of birth in those individuals predisposed to future obesity.
Conclusion
We utilized a single comprehensive method to assess daily energy expenditure in 3–6 month old infants and found that infants born to overweight and obese mothers had lower 24-hour energy expenditure, increased BMI and increased body fat when compared to infants born to normal weight mothers.
Abbreviations
EMTAC:

Enhanced metabolic testing activity chamber
ANOVA:

Analysis of Variance
BMI:

Body mass index
24-h EE:

Twenty-four hour extrapolated energy expenditure
RMR:

Resting metabolic rate
SMR:

Sleeping metabolic rate
PA:

Physical activity index
RQ:

Respiratory quotient
NCHS:

National Centers for Health Statistics
SDS:

Standard Deviation Score
BW:

Body weight
M:

Males
F:

Females.
Declarations
Acknowledgements
This work was supported in part by NIH grant (#1R43HD/DK38180-01A4) and by Pediatric Sunshine Academics.
Authors' Affiliations
(1)
EMTAC Inc, Santa Barbara, USA
Copyright
© Rising and Lifshitz; licensee BioMed Central Ltd. 2008
This article is published under license to BioMed Central Ltd. This is an Open Access article distributed under the terms of the Creative Commons Attribution License (http://creativecommons.org/licenses/by/2.0), which permits unrestricted use, distribution, and reproduction in any medium, provided the original work is properly cited.